Fees & Training Times

Fees per Term
| | | | |
| --- | --- | --- | --- |
| Level | Training Fee | *GNZ Affiliation Fee | Total Fees |
| Recreation | $130 | $9.78 | $139.78 |
| Level one | $150 | $23.58 | $173.58 |
| Level two | $159.97 | $23.58 | $183.55 |
| Level three | $239.97 | $23.58 | $263.55 |
Please contact Spiralz for fees for levels 4-10. The *GNZ Affiliation Fee for levels 4-6 is $23.58 and levels 7-10 is $35.08
*Gymnastics New Zealand
Notes: The GNZ Affiliation Fee is fully paid to GNZ, it is used to administer the sport at a national level.
In Term one an additional competition levy of $25.00 is invoiced additionally (for all competition levels). Our coaches and judges give up their time for free at competitions, but the administration fee enables us to contribute to their travel costs.
For donations to our club, please contact the treasurer at spiralzrhythmics@gmail.com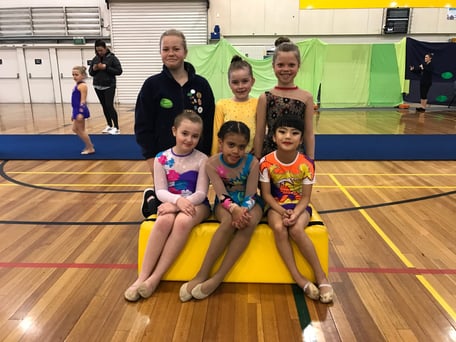 Gymnasts above level three can have variable days that they attend, and will be billed accordingly after an arrangement has been made. Please contact the club Treasurer, Bonnie, at spiralzrhythmics@gmail.com or the club Head Coach, Kenna, at spiralzpresident@gmail.com to discuss further.
Please note that the fees are paid per term and as such we cannot refund individual classes, with the exception of a confirmed medical reason or injury.
In competition season, training is sometimes run during the holidays, if your gymnast chooses to attend, this is billed separately to your term fees, and is based on a simple calculation of coaching and venue hire costs divided by the amount of gymnasts attending.
Invoices are sent a week or two before the term starts and payment is appreciated within 2-4 weeks, unless otherwise arranged.
There are payment plans available, if you wish to find out more information regarding payment plans, please contact the club Treasurer, Bonnie at spiralzrhythmics@gmail.com
2021 Term Dates
Term one: Tuesday 4th February - Friday 10th April
Term two: Thursday 30th April - Friday 3rd July
Term three: Thursday 23rd July - Friday 25 September
Term four: Thursday 15th October - 11th December (GFA + Level 1-3), 16th December (Level 4+)