Competitions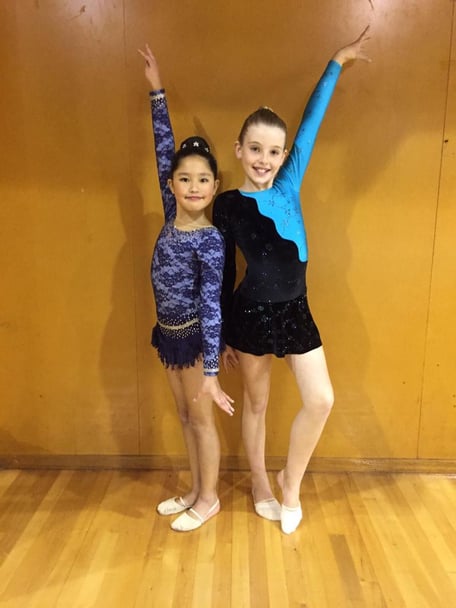 Competition Reminders
Levels 1 & 2 must attend at least one competition
Levels 3 plus must attend at least three competitions (the points gained at competitions determine if the gymnast moves up a level at the end of the season)
Hoops are provided for level 1 comp, but taping needs to be done yourself
Level 2 & over need their own apparatus.
Gymnasts attending competitions to compete must wear the Spiralz Fleece Jacket and black leggings.
Gymnasts must be there 1.5 hours before competition time, this gives them time to adequately warm up and feel prepared when their routine is called. The coaches are also there 1.5 hours early, so this also assists the coaches in doing their job well.
A bun is usually the hairstyle of choice, but as long as it is pulled back neatly other styles are acceptable
Leotards must be a good fit (See your coach if unsure)
Water bottles for hydration & snacks at comps
Jewelry at comps - small studs only, no sleepers or necklaces to be worn
Spiralz Competition Jacket:
Competition jackets can be ordered via the head coach. Jackets are from and printed by PW Dance wear. The price includes freight.
Adults - $85.99
Kids - $66.99
Child sizing – 4, 6, 8, 10, 12
Adult sizing – XS, S, M, L, XL
There are some sizes available to try. Ask your coach if you need to try sizes before placing an order.
Please see our Useful Links page for tips on competition hair, make-up and equipment
Scroll down to see the 2019 Junior and Senior competition calendars
2019 Junior Competition Details
Rows in bold are the competitions usually attended by Spiralz. These are also stored in the Events page
| | | | | |
| --- | --- | --- | --- | --- |
| Date | Event Name | Host Club | Grades | Venue |
| May 26th | Otago Invitational | Greater Green Island Rhythmic Gym Club | Levels 1-4 | Caledonian Gym, 265 Andersons Bay Rd, Dunedin |
| June 2nd | Olympia Junior RG Champs | Olympia Gymnastics Sports | Levels 1-4, Stages 1-2, Group Grades 1-2 | Lincoln Events Centre Meijer Drive Lincoln |
| June 8th | Wellington Open | Elements | Levels 1-4 stages 1; 2 and Groups | 550 High St , Lower Hutt , Wellington |
| June 16th | Counties Manukau Gymnastics Junior Invitational | Counties Manukau Gymnastics | Level 1-4, Stage 1-2, Grade 1-2 Group, Special O | Gymsport & Recreation Centre, Pulman Park, Papakura |
| June 22nd | Delta Junior | Delta Rhythmic Gymnastic Club | Levels 1-4, Stages 1&2 | Rangi Ruru Girls' School 59 Hewitts Rd, Merivale, Christchurch 8014 |
| June 30th | Xtreme Junior Competition | Xtreme Rhythmix | Levels 1-4, stages 1-2, Group Grades 1-2 | Sacred Heart College, 250 W Tamaki Rd, Glendowie, Auckland 1071 |
| July 7th | Otago Junior RG Competition | Dunedin Gymnastic Academy | Levels 1-4, grade 1-2 groups | Caledonian Gymnasium Andersons Bay Road |
| July 19th | Midlands RG Junior Championships | Future Gymnastics Tauranga | Level 1 - 4 | ACG College 6 Keenan Rd, Pyes Pa |
| July 28th | Olympia Ashburton RG Junior Championship | Olympia Gymnastics Sports | Levels 1-4, Stages 1-2, Group Grades 1-2 | EA Networks Centre, 20 River Terrace, Ashburton 7700 |
| August 3rd | Spiralz annual junior competition | Spiralz Rhythmics of Hamilton | Levels 1-4, Stages 1-2, Groups 1-2 | Te Rapa sportsdrome, 49 Church Road, Hamilton |
| August 24th | Delta Junior #2 | Delta Rhythmic Gymnastic Club | Recreation, levels 1-4, stages 1&2 | Rangi Ruru Girls' School 59 Hewitts Rd, Merivale, Christchurch 8014 |
| August 25th | Counties Manukau Gymnastics Junior Rhythmic Comp | Counties Manukau Gymnastics | Level 1-4, Stage 1-2, Grade 1-2 Group, Special O | Gymsport & Recreation Centre, Pulman Park, Papakura |
| September 8th | Shore Rhythmic Festival | Shore Rhythmic Gymnastics | L1 - L4 plus Stages 1 & 2 | Birkenhead College Gym, Birkdale Road, Birkdale, Auckland |
| September 14/15 | Xtreme Invitational | Xtreme Rhythmix | Levels 1-10, Stages 1-4, Junior International, Senior InternationalGroup grades 1-7 | Barfoot & Thompson Stadium, 203 Kohimarama Road Selwyn College Grounds |
| September 21/22 | RG L3/4 National Clubs Festival | Delta Rhythmic Gymnastic Club | Levels 3-4 | Rangi Ruru School Gymnasium, Christchurch |
2019 Senior Competition Details
| | | | | |
| --- | --- | --- | --- | --- |
| Date | Event Name | Host Club | Grades | Venue |
| May 18th &19th | Auckland Champs | Xtreme Rhythmix | Levels 5-10, Stages 3-4, Junior & Senior International, Group Grades 3-7 | Barfoot & Thompson Stadium, 203 Kohimarama Road Selwyn College Grounds, Kohimarama, Auckland |
| June 8th &9th | Wellington Opens | Elements Rhythmic Gymnastics Club | Levels 5-10, Stages 3-4, Junior & Senior International, Group Grades 3-7 | St Oran's College, 550 High St , Lower Hutt , Wellington |
| June 15th & 16th | Otago Champs | Greater Green Island Rhythmic Gym Club | Levels 5-10, Stages 3-4, Junior & Senior International, Group Grades 3-7 | Caledonian Gym, 265 Andersons Bay Rd, Dunedin |
| June 22nd & 23rd | Counties Manukau Gymnastics Rhythmic Invitational | Counties Manukau Gymnastics | Level 5-10, Stages 3-4, Junior & Senior International, Group Grades 3-7 | Gymsport & Recreation Centre, Pulman Park, Papakura |
| June 29th & 30th | Delta Invitational | Delta Rhythmic Gymnastic Club | Levels 5-10, Stages 3-4, Junior & Senior International, Group Grades 3-7 | Graham Condon Recreation and Sports Centre, 3 Sisson Dr, Christchurch |
| July 6th & 7th | Spiralz Senior Annual Competition | Spiralz Rhythmics of Hamilton | Levels 5-10, Stages 3-4, Junior & Senior International, Group Grades 3-7 | Te Awamutu Events Centre, 3 Selwyn Lane, Te Awamutu |
| July 13th & 14th | RG Canterbury Champs | Olympia Gymnastics Sports | Levels 5-10, Stages 3-4, Junior & Senior International, Group Grades 3-7 | Lincoln Events Centre, Meijer Drive, Lincoln |
| July 20th & 21st | Midlands RG Championships 2019 | Future Gymnastics Tauranga | Levels 5-10, Stages 3-4, Junior & Senior International, Group Grades 3-7 | ACG College, 6 Keenan Rd, Pyes Pa |
| August 3rd & 4th | South Island Champs | Dunedin Gymnastic Academy | Levels 5-10, Stages 3-4, Junior & Senior International, Group Grades 3-7 | Caledonian Gym, 265 Andersons Bay Rd, Dunedin |
| August 10th & 11th | Xtreme International | Xtreme Rhythmix | Levels 5-10, Stages 3-4, Junior & Senior International, Group Grades 3-7 | North Shore Event Centre, Argus place, Glenfield |